After adding your child to Dash, you are able to begin applying for competitions or teams (intakes). These registrations fall into two main categories - Open or Ticket.
Open Intake
An open intake is where any child can submit an application, permitting they meet the age/gender/region requirements. To apply for an open intake, navigate to your dashboard and on the right hand side of your screen click "Apply to an open intake".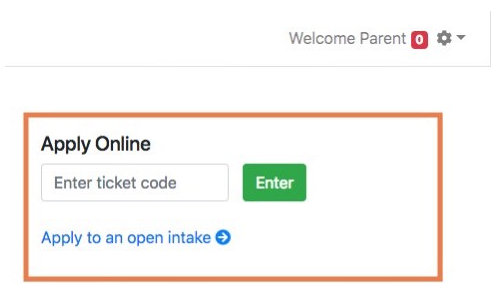 You will be taken to the application creation screen where you can see a list of your children and the intakes that are relevant to each. You can filter the results to only show certain sports or division, or you can search for a specific title directly if you prefer.
To begin your application, click "Select" next to the relevant intake followed by the "Create Application" button.
Please note: You can apply for multiple intakes at once by clicking "Select" next to each intake you wish to apply for. After doing this, you will see the below prompt. Checking this box will copy your answers across from each application (if possible), preventing you from having to answer the same question for each application.



Ticket Intake
If you have been provided with a unique ticket code you can enter this on the Dashboard. An example of this is where a child is registering to be part of a triathlon relay, or has been invited to compete in a regional/state level team.
To apply for a ticket intake, enter your unique ticket code in the "Apply Online" field found on the right hand side of your dashboard, then click "Enter".
You will then be taken to the application creation page, where you need to select which child this application is relevant to. After selecting the correct child, click "Create Application".


Application Steps
After clicking "Create Application", you will begin the application process.
Each application is made up of steps, which require you to perform various actions depending on the step type. See below the most common step types, and what is required from you for each.
After filling in all the details required of you in a step, click "Save & Continue" to progress onto the next step.
Medical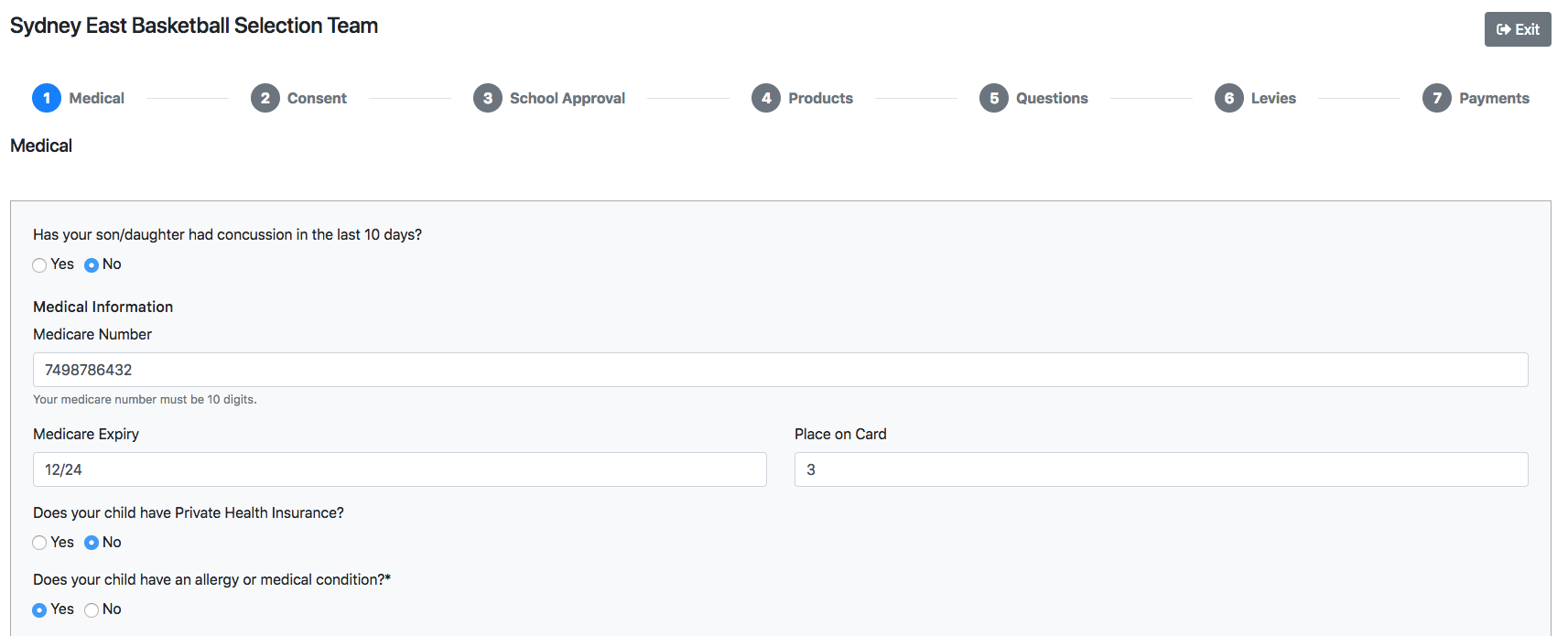 The Medical Step asks for information surrounding your child's medical details. Your child's medical details should be pre filled under the "Medical" step. Double check these details are correct and make sure you answer the first question, "Has your son/daughter had a concussion in the last 10 days?". If your details don't pre-fill, simply enter the correct details.
Consent
The Consent Step prompts you for your consent surrounding your child's participation in the relevant activity or position. If you are unable to consent for any reason you need to contact the organisation responsible for that intake.
School Approval

This step needs to be filled out by the school principal. No action is required from you. You will be informed via email once the principal has approved your child. You are free to skip this step and continue filling out the rest of the registration.
You can visit our troubleshooting article if you believe this process is taking too long.
Products
Some intakes have optional or mandatory products that are available to purchase within the application process. Select the appropriate quantities and variations for your products.
Questions
The organisation responsible for the intake may have included some custom questions which you need to answer. These will vary from intake to intake. Simply answer these and then press "Save & Continue" to continue to the next step.
Levies and Payment
Some levies are mandatory, whereas others may be non mandatory, such as travel levies. It is important to select which are relevant to your child.
On the "Payment" step you are able to clearly see which products you have ordered and which levies have been applied to your account. You can find out more about how to make a payment here.
You will be able to see your amount owing in bold.
Having problems with payments?
Registration Progress
Back on your dashboard you'll be able to see how far you've progressed with your application. To resume your application process, click your child's name which will be highlighted blue.
Remember not to fret if it shows as one step unfinished and you are confident you've completed everything, that will likely be the school confirmation step which requires the principal's input.
If you are worried that your principal has not seen your child's registration, and has not yet approved it, please check out troubleshooting.