Once your teacher role is active you can apply for a position.
Please note: If you are a teacher at a school, your school needs to confirm your teacher role. You can contact your school if your teacher role still shows pending. If you are a casual teacher or retired teacher your role needs to be confirmed by the relevant organisation.
If your "Apply for Position" button is still greyed out and your teacher role is showing "Active" then simply log out and log back in to be able to apply.
Applying in Five Easy Steps
1.
Open the Position Application Search
Select the "Apply for a Position" button from your dashboard.
2.
Choose Role
Select a "Role Type" using the dropdown menu. You may also select an "Optional Position Title". If you would like to see all roles available to you, then do not select anything in the dropdown and instead simply select "Next Step".
3.
Define Additional Position Criteria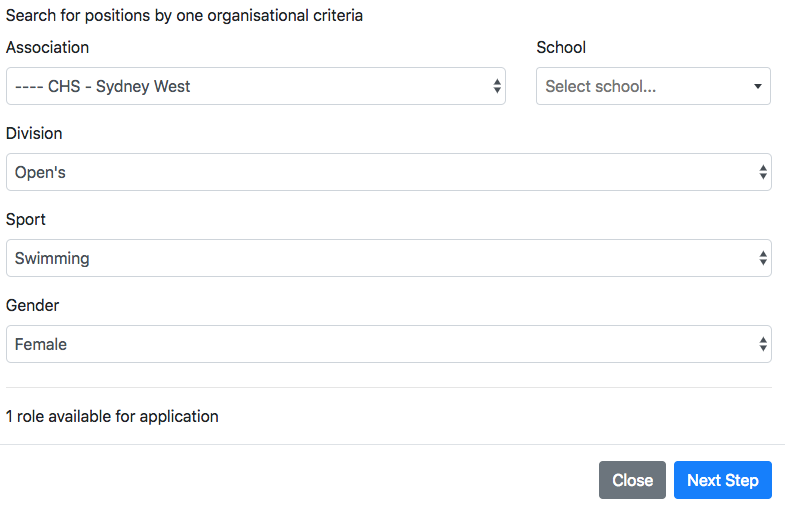 You can choose as many additional position criteria as required.
Please Note: If you wish to see all roles available to you, then please leave the fields blank.
Unable to apply for a position or a role isn't showing up?
4.
View Application and Answer Any Required Questions
To complete an application you will need to select "View Application". No need to worry if you exit from this summary page, you can also access the applications in the dashboard by selecting the Application's name.
Please Note: By default all positions will have one step which will require your school to confirm your application. No action is required on your behalf. Your school will be notified that you have applied for this position.
Please fill out all relevant fields then select "Save & Continue". Your application will show in your dashboard under "My Applications" where you can edit it anytime up until the application closing date.
Withdrawing an Application
If you decide to withdraw your application, you can do some by clicking "Withdraw" next to the relevant application on your dashboard under "My Applications".
Warning: This action cannot be reversed. Please contact your organisational administrator if you have accidentally withdrawn your application.
5.
Confirm
If you are successful you will be notified via email and with a notification on the top right of your dashboard. You will need to action this notification and confirm you wish to take up this position for the defined tenure period.
Your position will show up in your dashboard as "Active" when the tenure date has began.
This position will be considered active for the duration of the tenure and will disappear from your dashboard once the tenure has expired.
Still having issues? Check out our troubleshooting here.