Please Note: These instructions are only for teachers who have a valid teacher account. If you need more information regarding getting your teacher role approved by your school, please refer to this article.
To create a child team in Dash, click the "Create a child team" button on your Dashboard.
This will display the "Create Team" pop up, where you must select the intake you wish to create a team against, and name your team.
After creating your team, it will display under the "My Teams" section of your dashboard. Click your team name to view team info and review team member applications.
Private Teams
When an intake is created, the administrator will be prompted to make the teams private or public. If the teams are private, you will need to invite applicants to your team manually. There are two options for inviting applicants to a private team:
Tickets
If a ticketing system is enabled on the intake, you will see the following when viewing your team from the dashboard: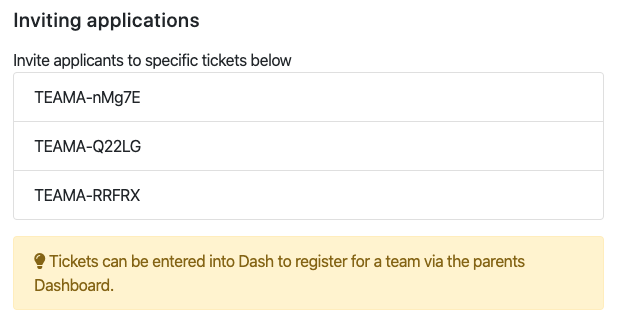 To invite applicants, give a parent their unique ticket code. Once they enter it in the system, they will automatically begin your teams application process.
Please Note: A maximum number of team members is set by administration when creating a private intake. You will receive the appropriate number of tickets, depending on your maximum number of team members, and can only hand out one ticket code per applicant.
Permalink
Another method for inviting applicants to join a private team is via a secure permalink. This link will be displayed when viewing your team from the dashboard.
To invite applicants, copy the link and send it to the desired applicants. Once they click the link, they will be taken to your teams application process.
Please Note: The method of invitation to a private team is decided by the administrator creating the intake. If you believe there has been a mistake with the creation of the intake, please contact your relevant administrative staff.
Approval
If the administrator has set up the intake in such a way that approval is required from the team leader before an application is processed, you will receive a notification each time you receive an application to your team.
To view these notifications, click the settings cog in the top right hand corner of the screen, under "Welcome Name" and select "Items requiring approval". All team applications will be stored in here and you can approve/reject applications accordingly.