Creating a Child Team
You are able to create your own team if the intake allows parent management of a team.
To create a child team, click the "Apply to an open intake" button from your dashboard. Below the "Apply Online" heading.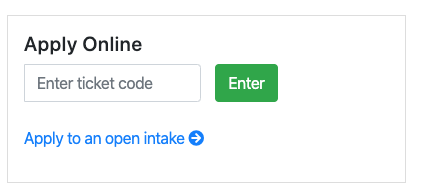 From here, choose your child who will be joining the team from the "Applying child" dropdown, then select the relevant intake. Once you have selected the appropriate intake, click the "Create Application" button at the bottom of the screen.
Once you have started the application process, you will be prompted to either create a team or join an already created team. Click "Proceed" under the "Create a new team" section, enter the team name and click "Add".
From here, you can begin the application process for your child. If your team is public, when other parents join a team, they will now see your newly created team in the list of available teams.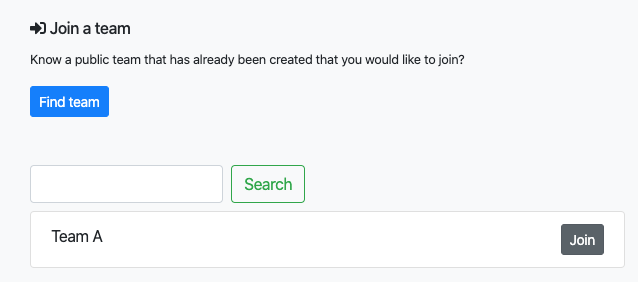 Private Team
If your team is private, you will need to invite other parents to your team either via a ticket or a secure permalink.
Ticket
If your team is a private, ticketed team, you will see a screen similar to the below after creating your team. You will need to pass these unique ticket codes onto the relevant users in order for them to join your team.
If your team is an invite only team, you will have a set maximum number of team members. You will receive as many tickets as there are required team members.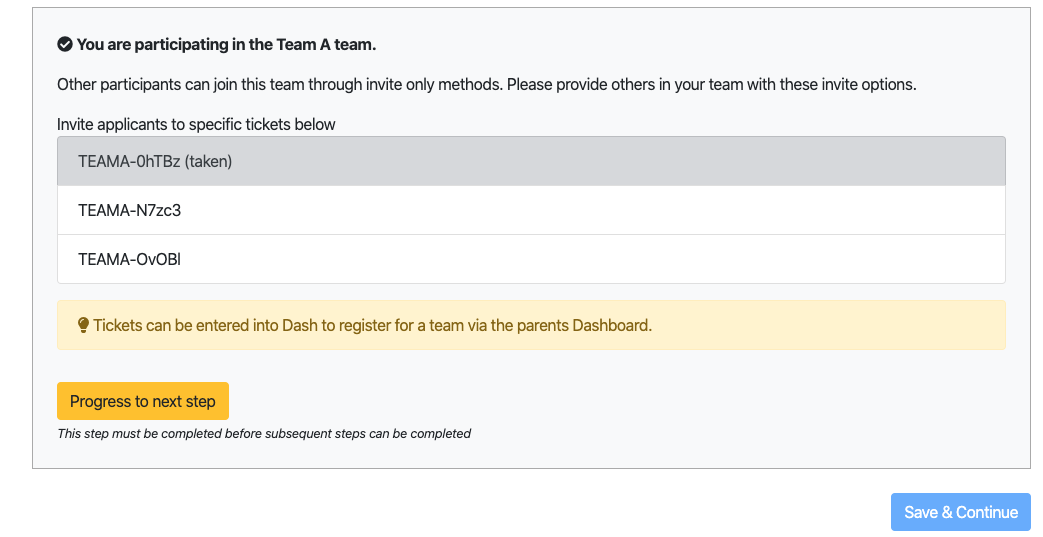 Please Note: One ticket will already be marked as taken. This is the ticket that was used for your child when creating this team. Each ticket can only be used once so do not hand out the same ticket code to multiple users, or try to reuse a taken ticket.
Permalink
Another method for inviting applicants to join a private team is via a secure permalink.
To invite applicants, copy the link and send it to the desired applicants. Once they click the link, they will be taken to your teams application process.
Please Note: The method of invitation to a private team is decided by the administrator creating the intake. If you believe there has been a mistake with the creation of the intake, please contact your relevant administrative staff.
Viewing Team Information
After creating your team, it will display under the "My Teams" section of your dashboard. Click your team name to view team info and review team member applications. You will also see tickets and permalink info from this screen if your team is private.